Jamie McGuire is, according to her own website's bio, an award-winning indie author who has paved the way in New Adult fiction. With 23 published books and a lot more upcoming projects it is likely you have come across her books at one point or another. Inspired into becoming an author by her ongoing interest in journaling and blogging, McGuire's books fall into genres such as YA paranormal, apocalyptic thrillers, dark science-fiction and a lot of romance.
Welcome to the "What's the Deal With…" series; a place where we deep dive into the facts surrounding the drama, cancel culture and problematic issues of those within the book community.

These posts are to enlighten you about why certain names are being thrown around, discussed and/or bad-mouthed on the internet. They are not intended to shine hate on any one person, rather to lay out the facts and provide unbiased commentary on news in the book industry.

All facts will be provided with some type of screenshot, link or citation. If you notice any mistakes or key missing details regarding the story, please feel free to let me know in the comments below.
And with that said – What's the Deal With… Jamie McGuire?
Why is Jamie McGuire now popping up on my Twitter feed with readers being upset about the amount of mutuals they have following her social media account? Well let's jump back a bit because this isn't the first time that Jamie McGuire has been called out by readers.
Problematic Fiction
Note: Let it be known that I have not personally read any of the books by this author. All opinions regarding McGuire's publications are from reviews which are linked in the post.
Jamie McGuire has become a bit of a name when it comes to problematic fiction. In particular, her writing has been called out for the inclusion and treatment of abusive relationship narratives in particular.
Some of the descriptions of McGuire's books found in various reviews include:
Including problematic characters and behavior in a story is not an issue by itself. There can be a lot of value in telling a story about toxic relationships or relationship abuse. But the way an author handles these topics is crucial – there is a fine line between handling such topics responsibly or creating a story that is damaging or glorifying the content.
Sadly, reviewers seem to believe that McGuire is doing the latter with her writing.
One reviewer – Molly, from Wrapped Up In Books – discusses this very clearly in her review of McGuire's Beautiful Disaster. Molly describes the book as "glorifying" and "romanticizing" the abusive relationship content. This is an obvious point – the book title "Beautiful Disaster" is literally McGuire's description of the abusive relationship. Molly pointed out how Travis, the main character and abuser in Beautiful Disaster, is introduced as the star of the book and how the relationship is framed as happily-ever-after and a relationship ideal.
And to further illustrate the danger of framing such problematic content in this way, one just needs to look at the positive reviews for her books. The same character that has clearly been identified as an abuser is celebrated by many reviewers:
Note: I have chosen not to link/cite these comments due to their problematic nature. However, you can quickly scroll through the 5-star reviews for Beautiful Disaster on Goodreads and find many of the same comments.
"Travis, Travis, Travis. I liked him, I hated him, I liked him again"
"Right from the start I fell head-over-heels in love with Travis."
[About Travis] "I loved him, many people may consider him as immature but his will for love was unbelievable."
"Travis Maddox…well if that name doesn't make you fangirl, I don't know what does."
Attacking Book Reviewers
Most people would understand that book reviews are written with the intention of being read by other readers, not the author. This is something that is commonly discussed with the book and reviewer communities online. (For more information I suggest checking out the discussion "Reviews are for READERS" by The Orang-utan Librarian).
And yet, despite this commonly held belief there are cases that appear of authors stepping over that invisible line. Jamie McGuire has, in the past, been one of those authors.
The primary example was when reviewer, Sophia, wrote a (very intense) negative review about McGuire's Beautiful Disaster. When this comes to the attention of McGuire, she proceeds to make a blog post that paints book reviewers with negative opinion in an extremely poor and offensive light.
The situation escalates further when a second reviewer than chooses to directly contact McGuire about another negative blog post she had scheduled to publish (for more details check out this post from GoodReads Follies). Lo and behold this results in a lawsuit against said blogger from McGuire herself.
Clearly, McGuire is not the only person at fault here. Tagging authors in negative reviews for their books is poor practice and has been frowned upon by countless authors. However, crossing that "reviews are for readers" line in the first place and eliciting attacks against those reviewers clearly isn't it either.
Damaging Vocal Opinions
Then there is all the other non-book related opinions that McGuire likes to throw out into the world.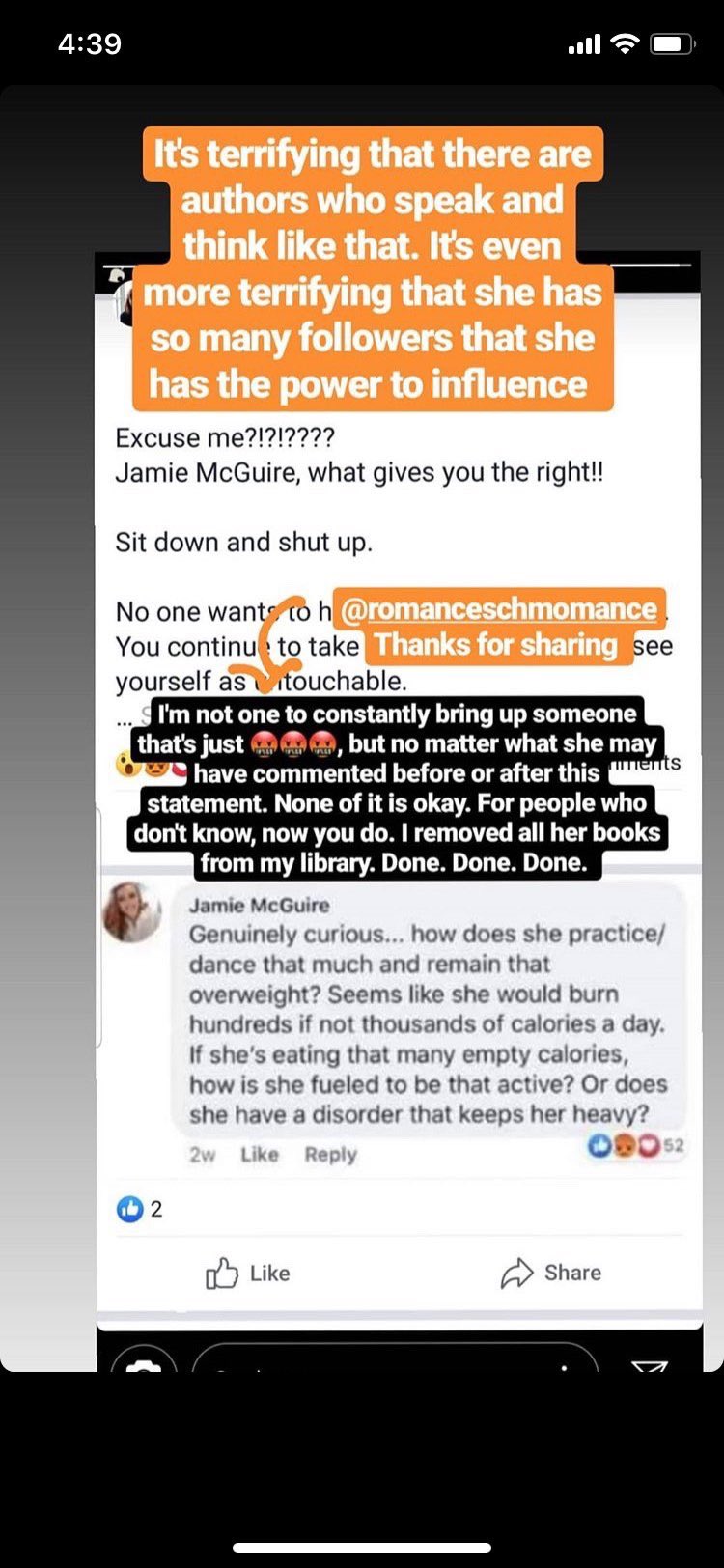 The Latest
A lot of this is old news – so why is Jamie McGuire back in the spotlight?
Well, she has had a lot of vocal opinions surrounding the current Black Lives Matter movement and recent murders of black men. None of them have been taken to kindly.
This second image is of Kyle Rittenhouse, a 17-year-old who shot two BLM protesters dead on 25th August, 2020. While Rittenhouse is claiming self-defense, being the cause of multiple deaths against activists is not what constitutes a hero, in my opinion.
I am not saying that you should write off Jamie McGuire as a bad person.
I am not telling you to cancel her books. What I am encouraging is that you look at the facts, the screenshots, and the situations presented to you and make your own decisions about whether Jamie McGuire is an author you want to support.